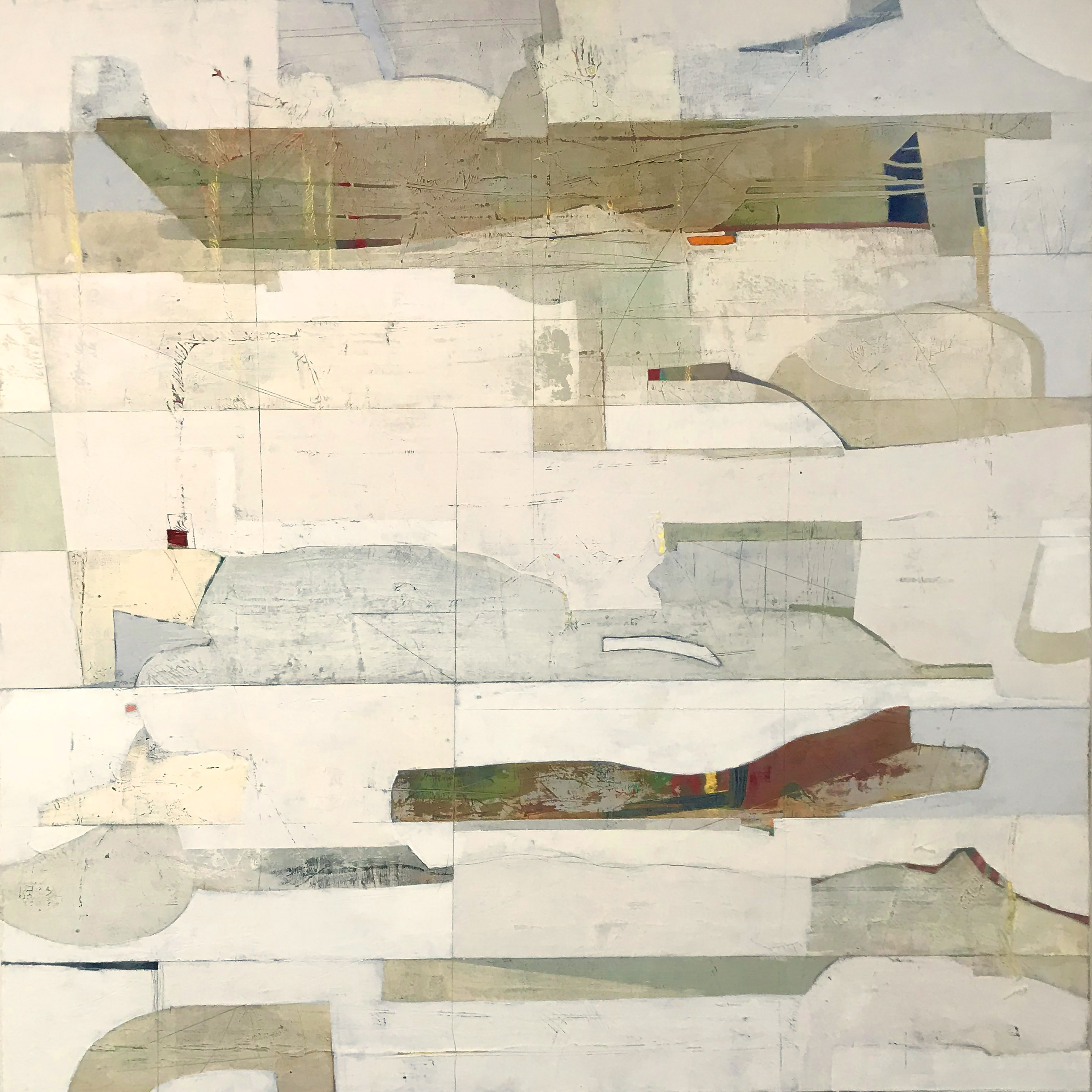 Elysium, Oil and Cold Wax on Baltic Birch Panel, 48x48in
---
My NEW "Watch-Learn-Grow" (WLG) membership group launched on July 10, 2019 and is dedicated to all artists who are enrolled in my "Powerful Design and Personal Color" (PDPC) online painting course - or who have substantial knowledge and understanding of color and design. This is an advanced membership group for those artists who wish to go beyond the PDPC course to explore and expand on the principles learned and mastered in PDPC. If you wish to have access to in depth critique of your work, wish to have painting challenges that will inspire and push your creativity, and be a part of a group of dedicated artists who wish to take their art to the highest level possible, both personally and/or professionally, please submit an application to be considered for this group by clicking above. All of the following is included for $20/month:
1-TWO+ Hours of new video content each month - including two LIVE calls/month, and some from prerecorded content. These two+ hours of video content will include in depth critique of chosen student work submitted for review (each video, whether from a LIVE call or a recording done by me will become part of a new PDPC Membership Video Library). I typically spend an entire day reviewing student work for each of our current one plus hour LIVE calls, and I ask specific questions of each student who submits work so I can try and "see through their eyes" what their design aesthetic is. I prepare for these calls carefully and with much consideration for each artist's voice so my comments are "in line" with their aesthetic. I love to help artists improve design and composition of their work and I enjoy working very hard to present ideas and comments that speak to each individual. This new membership group will allow me to share this extremely important part of the art making process with members. I once heard, "a work of art is not complete until it is seen". Though many works submitted are not yet finished, it does take courage to submit work you are stuck on! I believe we all benefit from seeing lots of critiques of all different kinds of work - not just our own. We also benefit by seeing work in many different stages and we will focus on the three primary stages presented in the PDPC course, PLAY, EXPLORE, and CLARIFY. (*Work chosen for critique is largely on a first come, first serve basis. Work chosen by instructor will represent a cross section of work being done throughout the PDPC group of artists).
2-Q & A pertaining to the PDPC course and beyond. Those in the PDPC course are able to get many questions answered, but there is so much to share above and beyond what is included in this course. If students have questions about marketing, photographing their artwork, framing, presentation, how to get into galleries, etc., all questions may lead to calls with experts - all provided for the PDPC membership group. While the critique calls will be presented as LIVE calls, other videos will be added pertaining to extra topics as recorded calls. This library will grow over time and always be accessible as long as a member is current with the monthly fee.
3- I will be recording behind the scenes, and making available to PDPC members topics pertaining to preparing for my solo exhibition coming in June of 2020 at the Prichard Art Gallery, part of the University of Idaho's School of Art and Architecture in Boise, ID. It is a magnificent space - a bit daunting in size (about 2400 sq. ft.) and I will share the steps I take to prepare. You will literally be a "fly on my studio wall" as I share in depth info - far beyond what I ever share on my YouTube Channel (this audience is too broad) and the material presented in the PDPC membership group is for serious artists who wish to get all the nitty gritty details as I work through the kinks, challenges, ups and downs. I again hope to create a show catalog, in full color (much like my Simply Not catalog). Here are just some of the topics I will be thinking about and sharing (recorded videos available in the PDPC member library):
•How I evaluate an exhibition space to determine format, size and number of works
•Curatorial decisions an artist must make to create a cohesive exhibition
•How to write an artist statement
•Planning and creating a color catalog to accompany this exhibition

•How to document, title and price each work
• And much more!
4 - Other special topics: There are many topics I hope to include in the growing WLG library. Topics to include special digital apps for smart phones, organizing your art life and inventory, working toward a personal voice across multiple mediums, and interviewing experts in creative fields all come under this heading.
5 - NEW - Monthly Art Challenges to push you outside the parameters presented within the PDPC course! These art challenges will be available for any artist who has already completed the course or who just wants to try something not presented in the PDPC course curriculum. As students work on these challenges, they may certainly submit their works for critique! These art challenges are intended to push the artist outside their comfort zone and into new, uncharted territory!
MY INSPIRATION FOR THIS EXCLUSIVE MEMBERSHIP GROUP is TWO-FOLD:
Since launching my "Powerful Design and Personal Color" Course featuring demos in cold wax and oil in Nov, 2019, I've been blown away by student response, gratitude and grasp of the material included in the course. Though I created everything with the idea of all material being available 24/7 for "go at your own pace, busy individuals" in an "independent study" format, I am beyond excited to see all the growth that is happening for PDPC artists! I want to continue to be involved in your journeys, and critique is done best when both artist and instructor can discuss the work in more detail than is possible in our private Facebook group. Thus, this membership group is for YOU, the PDPC artist who is going along merrily who may occasionally want additional feedback, help, critique, suggestions and/or comments that I can provide after truly studying your work.
Also, any artist who commits to creating a large body of work for a solo exhibition has much to share. Just as I prepared for two years to bring my "Simply Not" exhibition to the Holter Museum of Art (Helena, MT, 2017), I am again taking a new journey through 2020 that will surely be filled with challenges, risk, progress and setbacks; this all comes with the territory. With the new exhibition in 2020 to work toward, I know the experience and personal/artistic growth over the next 1.5 years is something I want to document and share with you. While I'm honored to have this opportunity to create a body of work for public display, it requires intensive introspection and the need for greater risk, exploring new territory, experimentation, research and a need to push new boundaries in order to clarify my voice, a lifelong pursuit.
I welcome all of these challenges, and hope you will join me in this PDPC membership group as a way of sharing your work with me in a more intimate way, so you may continue your rapid growth. It will be an honor to work with members in this exclusive PDPC membership group!
This new PDPC membership group will begin in July, 2019, and will be limited in capacity! To receive more details and updates please APPLY below!